Electronic music auteur deadmau5 returns today with hyperlandia, a low-lit, slow-burning single featuring pop experimenters Foster the People. Like a lot of deadmau5's most moving tracks, it's an intricate and thoughtful mix of dizzying synth melodies and anthemic vocals, and it's out now on his mau5trap label.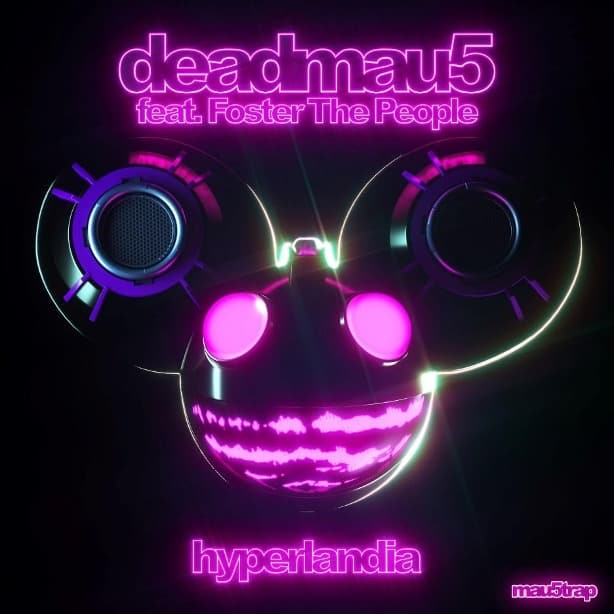 hyperlandia' is a yearning track, searching for the sublime in romantic melodies and neon electronics. deadmau5's production is complex, yet tender, with twinkling synth arpeggios and rumbling drums that feel both ornate and intimate. Meanwhile, Foster the People frontman Mark Foster echoes the song's emotional core. "Give me your best night," he sings. "We're only here for a day so don't tell me your name / And just melt into my arms while we disappear in the darkness." hyperlandia dreams of escape—the proper soundtrack for aimless late-night drives, finding comfort in the empty streets and the company of someone you love.
This new team-up with Foster the People continues deadmau5's career-spanning run of star-studded collaborations. Earlier this year, he released When the Summer Dies with Canadian alternative singer/songwriter Lights, with whom he previously worked on 2018's Drama Free from the Netflix feature film Polar. deadmau5 has also collaborated with legendary production duo The Neptunes (Pomegranate), Canadian singer Kiesza (Bridged by a Lightwave), My Chemical Romance frontman Gerard Way (Professional Griefers), and English singer/songwriter/producer Imogen Heap (Telemiscommunications), among countless other producers, singers, and songwriters pushing at the boundaries of pop.
hyperlandia follows deadmau5's in-game concert series inside of Core, the premier platform of user-created games, marking the launch of Oberhasli, an evolving social space and virtual music experience directed by the world-famous electronic artist. He also recently returned to the legendary EDC Las Vegas. Fans can continue to find deadmau5 on tour, which includes performances at his annual day of the deadmau5 weekender in Miami (October 28–30), Houston's Freaky Deaky festival (October 29), and a Red Rocks day of the deadmau5 double-header (November 4–5). Tickets for all shows can be found at: www.deadmau5.com/shows. Tracks like hyperlandia, as well as this recent run of live shows (both in the virtual world and IRL), serve as a reminder that deadmau5 is both an unrepentant experimenter and a voice that can resonate with crowds across the globe. He'll boldly charge ahead into uncharted territory, and he's unafraid to bring listeners along with him.
Connect with deadmau5 on Instagram, Facebook, and Twitter. You can find Foster The People on Instagram, Facebook, and Twitter as well.