EDM Nomad has had the honour to interview the next great prospect in the electronic dance music scene. Raised in a musical family, Valentijn Hoogwerf, most well-known by his stage name Avalan, has started his musical journey from an early age. Driven by passion and persistence, he kicked off his career in 2018, performing at Germany's New Horizons Festival and then lit up the stage with his vocals during Amsterdam Dance Event. At the end of 2019, Avalan released the song 'Sucker for Love' in collaboration with trance legend Armin van Buuren. Inspired by the current situation, he created an intimate and emotional track about the 'World we Know', which was premiered at the opening of 2020's AMF presents Top 100 DJs show. The track 'World We Know' and its powerful AlterBoyz remix is the official AMF 2020 anthem.
1. Hello, thanks for taking the time to speak with us. Firstly, how are you doing?
Hi Sabrina, I'm doing great. It's good talking to you and to be able to tell you and your readers a little bit more about me and my musical journey.
2. Can you tell us more about you, who is the person behind the name of Avalan?
I'm an outgoing guy who loves to be surrounded by friends and family, travel, and make music. I like to get my inspiration from the little things in life and personal experiences. Furthermore, my whole life basically has been about music. It might sound cliche, but I literally eat, sleep and breath music for as long as I can remember.
3. When did you start to develop a broad taste in music and what inspired you to pursue a career as a singer and a music producer?
I would definitely say my dad has been my biggest inspiration. He's been a singer performer for all his life. He has a band and is touring the country to perform at corporate parties and weddings. Apart from that, my mom is on the event side of things programming acts and entertainment on various culinary and national events. This introduced me to a very diverse set of music at a very young age. I started singing when I was 8 and participated as a member of a child choir on different TV Shows. I took my first piano lessons when I was only five years old and later studied different styles such as Pop, Jazz and Classical.
'I've always dreamt of lighting up big venues with music that is able to connect in an emotional and hopeful way to the audience'
I started writing my own songs in my first year of high school. I played in multiple school bands and did a bunch of charity performances. They were so much fun! I soon realised that by combining my musical background as a singer and vocalist with DJ'ing I could bridge a gap between the live organic music and the booming EDM industry into a concept that's fresh, new and authentic.
I've always dreamt of lighting up big venues with music that is able to connect in an emotional and hopeful way to the audience. Music that has meaning and everybody can relate to. That's one of the most important things for me. When I first went to a festival and saw DJ's play and interact with the crowd I knew right away I wanted to be on both dance and pop stages and combine the DJ act with my live skills I've developed over the years.
4. Last year you released your very first record, called 'Sucker for love', together with no one less than Armin Van Buuren. How did you get in contact with Armin and what was the collaborative process behind the track?
I'd been working behind the scenes for two years and worked as a record producer / songwriter while working on the Avalan sound. I got in contact with Armada and they'd been super supportive of the music and direction I was and am going for.
I sent them a bunch of song I'd been working on and one really stuck out for them. That record was 'Sucker for Love' and ended up a collaboration with Armin van Buuren! It was such a great first step into the limelight for me as a starting out artist. I felt incredibly honoured that Armin heard the potential in the song and produced the song the way we all know it now. He absolutely smashed it and he's an amazing and such an inspiring person to be able to work with.
5. This great debut song was so well received by audiences that it led you to a three-week tour in the United States alongside Armin Van Buuren and also you won your first plaque, right before the Coronavirus outbreak. Do you have other plans in the works with Armin for the future?
The tour was such a magical experience. I'd only been to LA a couple times to work in the studio, but had seen nothing else from the US. Being able to see so many of the US by being on a bustour with such an amazing group of people was insane! Looking back at it we've been so lucky that we were able to do the tour because right after we got back home the pandemic started hitting and we had to go in lockdown.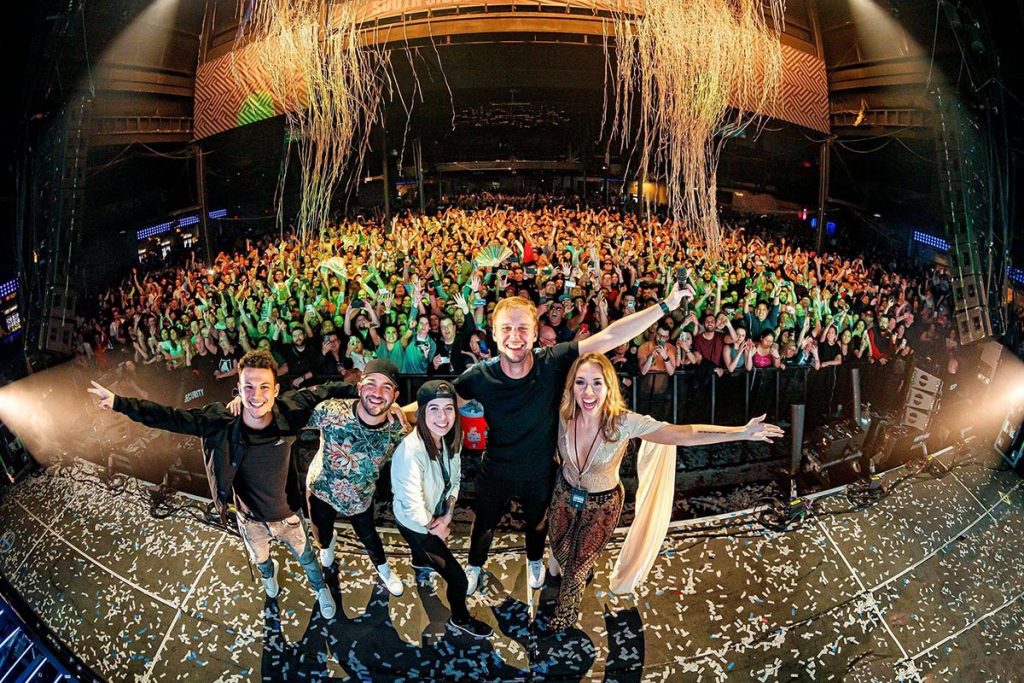 In regards to your question about future plans with Armin.. I can't say much… But I might have something really cool and exciting to share with you very soon, so stay tuned. For everybody interested, follow my Instagram account Avalanmusic for the latest updates.
6. On a different note, how did you spend most of your time during Covid-19 lockdown?
It might sound weird, but Covid has been good to me. It's been hard not being able to be on stage or travelling, but at the same time it taught me to really enjoy and appreciate the little things in life. I really invested time in family and enjoying nature. This really boosted me with inspiration for new music, so I have been working a lot and made some stuff I'm really proud of during quarantine time.
7. These challenging times inspired you to create a song about the "World we know". Tell us more about it.
I planned a studio session over zoom with two friends/songwriter buddies of mine from the UK. My plan for the day was to write something that is current, that inspires, motivates and a lot of people can relate to. The world we thought we knew all of a sudden was stuck in a system of quarantine, people stuck at home, seeing no way out, and a lot of them fighting a mental battle because they lost their total freedom. To me personally, it was a perfect and really powerful concept for a song.
8. A few days ago, the track "World We Know" it was premiered at AMF presents Top 100 DJs, a virtual awards show. How did it feel when you gave a performance from an empty arena to the 7 million-strong audience that was watching worldwide?
Honestly, one thing is to know you have something magical when you are creating a track that just feels good at the very first second you built the foundation. What's 10 times more powerful is to see it evolve into a music and video production of the level it is right now. I haven't experienced that a lot yet and it literally made me cry of emotions. Especially cause the whole concept of the song is so relevant to the situation we're in.
'…the minute I sat behind the piano fulfilling my dream looking into an empty arena to sing this intimate and emotional song just gave me goosebumps every single second of the performance and was an experience of a lifetime…'
With all that said, the minute I sat behind the piano fulfilling my dream looking into an empty arena to sing this intimate and emotional song just gave me goosebumps every single second of the performance and was an experience of a lifetime, something I will never forget. It's truly one of the most special things I've ever done. I was lucky enough to have a really amazing and wonderful team at ALDA who guided me through the performance and really supported me.
9. Last but not least, are there any new collaborations or other tracks that you have in the pipeline to follow up "World we know"? If so, can you share some hints with us and our audience?
2021 is gonna be a year full of music. About my collabs I can't say much at the moment. AMF definitely contributed in putting me on the map to show my ability to all dance industry leaders and artists and the responses and emails I got are
insane and will make 2021 also a very special year for me.
This or that questions
Big festivals or Small gigs?
Big festivals
60 s or 90 s music?
60's
Guitar or Piano?
Both
Original or Remix?
Depends on my mood:)
Thank you for your time and we can't wait to see what you come up with next!
Follow Avalan on socials:
Photo credits- Facebook- AvalanMusic