Saga Festival has entered in a straight line. The story of Saga will be written for the first time between 10-12 September at Romaero, in Bucharest, Romania. In less than 10 days, thousands of people will join together for an innovative three-day festival experience with the finest talent from across the spectrum of electronic music.
If you want to be part of the very first chapter, here is some information you have to bear in mind.
Line-up
Saga Festival knows how much you have missed your favorite artists and their live performances, so they prepared a spectacular line-up with famous artists like Don Diablo, Alan Walker, Oliver Heldens, Timmy Trumpet, Deborah de Luca, Carl Cox, Fisher, Amelie Lens and more. Also, the atmosphere will be heated by famous Romanian artists- INNA, Antonia, Spike DJ set, Deliric DJ set (+special guest) to name a few. The festival will host 5 stages-  Source, Heat, Spark, Switch and Silet Disco. Each of the stages is unique and typically features different types of music. The stages are designed to offer you the best experience no matter your taste in music.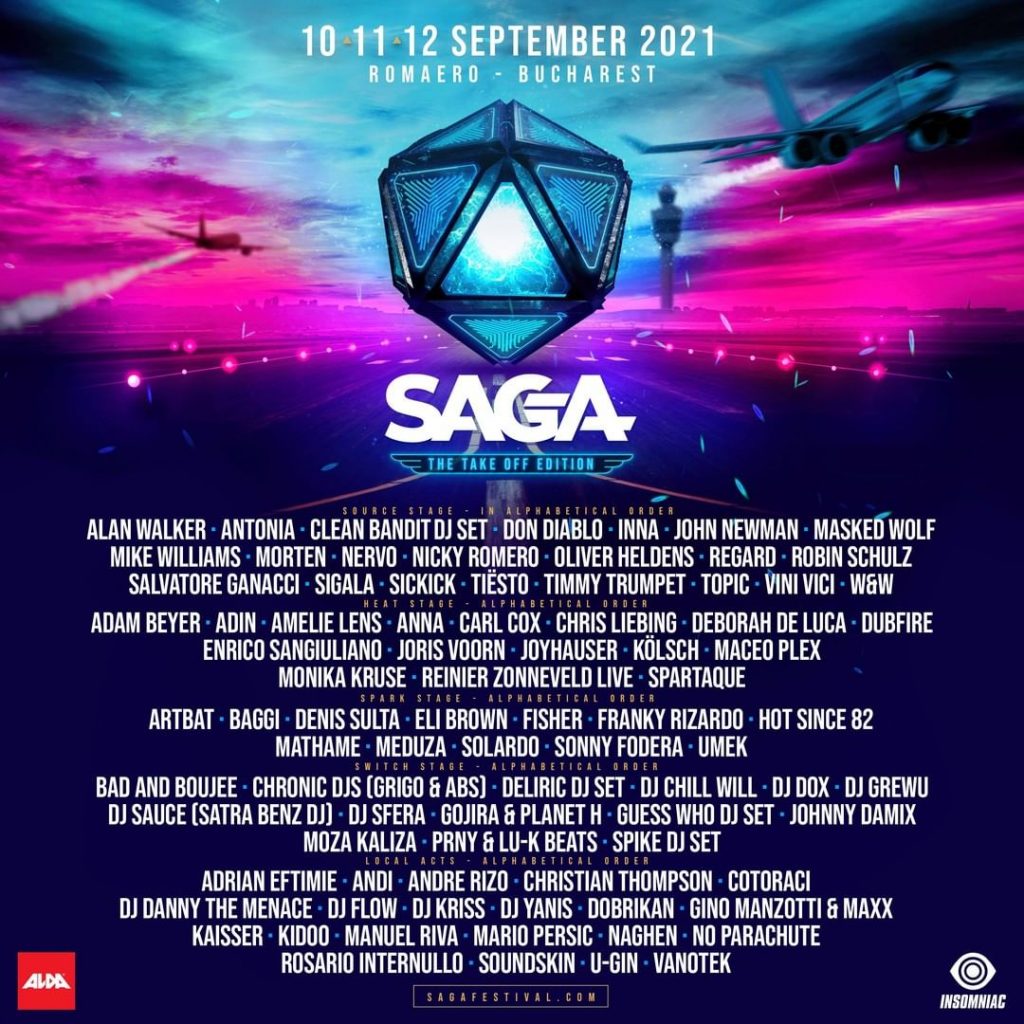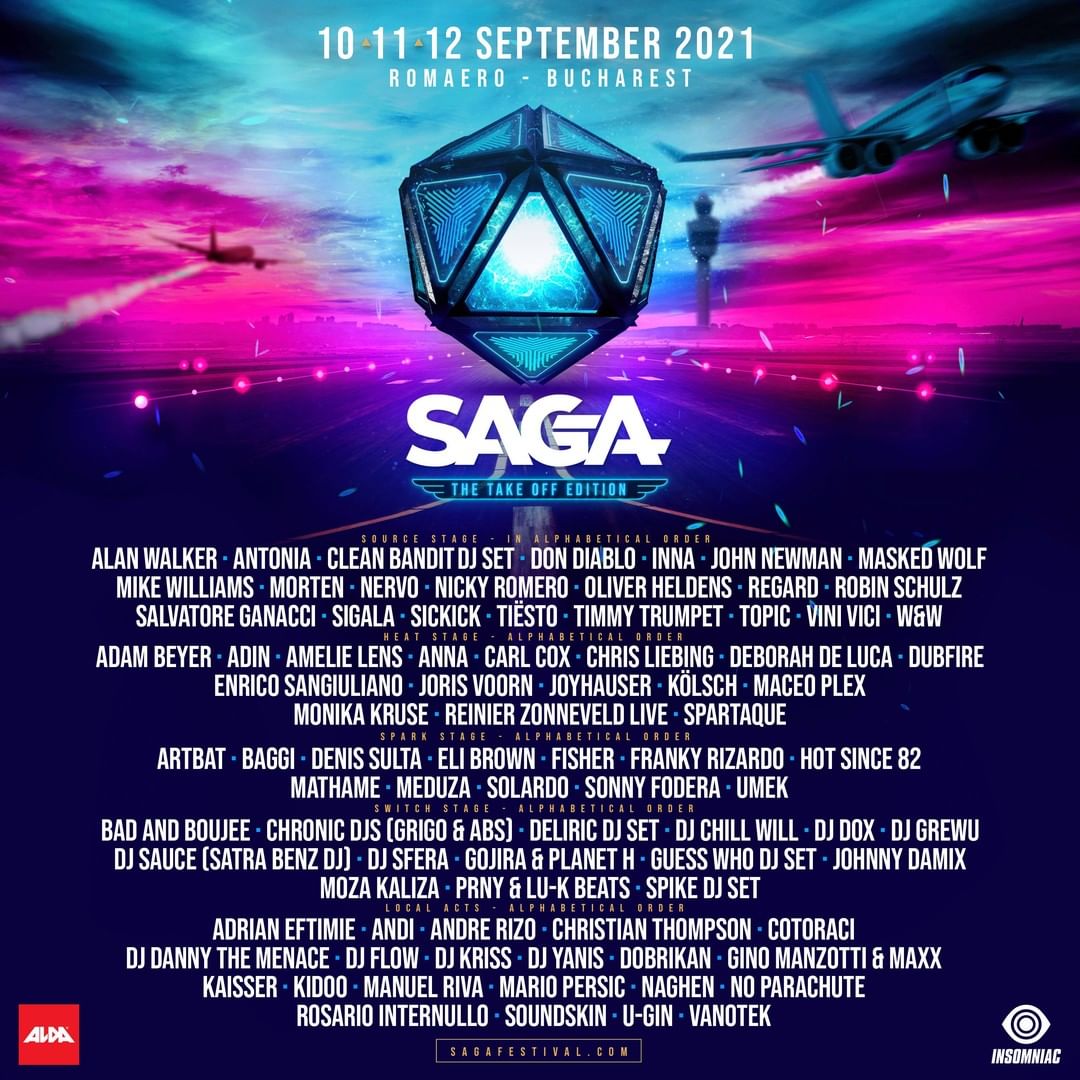 Daily Schedule
Source Stage
Friday 10 September- Andi, Clean Bandit (DJ Set), Don Diablo, Inna, Manuel Riva, Mike Williams, Salvatore Ganacci, Sigala, Tiesto.
Saturday 11 September- Gino&Max, John Newman, Morten, Nervo, Nicky Romero, No Parachute, Regard, Sickick, Timmy Trumpet, W&W.
Sunday 12 September- Alan Walker, Antonia, Avalan, Grasu XXL, Masked Wolf, Oliver Heldens, Robin Schulz, Topic, U_GIN, Vanotek, Vini Vici.
Heat Stage
Friday 10 September- Adin, Amelie Lens, Anna, Joris Voorn, Kolsch, Maceo Plex.
Saturday 11 September- Chris Liebing, Cotoraci, Deborah De Luca, Dubfire, Joyhauser, Reinier Zonneveld.
Sunday 12 September- Adam Bayer, Carl Cox, Enrico Sanguiliano, Monika Kruse, Spartaque.
Spark Stage
Friday 10 September- Adrian Eftimie, Artbat, Dobrikan, Franky Rizardo, Mario Persic, Mathame, Sonny Fodera.
Saturday 11 September- Baggi, Kaisser, Mezuda, Rosario Internullo, Solardo, Umek.
Sunday 12 September- Andre Rizo, Denis Sulta, Eli Brown, Fisher, Hot Since 82.
Switch Stage
Friday 10 September- Dj Dox, Gojira & Planet H, Guess Who Dj Set, Johnny Damix.
Saturday 11 September- Chronic Djs (Grigo &Abs), Deliric Dj Set (+special Guest), Dj Chill Will, Prny& Lu-K Beats (+special Guest).
Sunday 12 September- Bad and Boujee, Dj Grewu, Dj Sauce (Satra Benz DJ), Spike Dj Set, Moza Kaliza.
Silent Disco
Friday 10 September- Dj Danny The Menace, Dj Kriss, Kidoo, Soundskin
Saturday 11 September- Dj Danny The Menace, Dj Flow, Rares, Naghen
Sunday 12 September- Christian Thomson, Dj Flow, Dj Yanis, Naghen
Location
Pack your craziest outfit and your good mood and be ready to land in a place full of fun and music. The take-off edition will be organized in Aerodrom Romaero Baneasa. To get there you have more transport options.
Subway- Aurel Vlaicu (20 min walking)
Buses- 301, 605, 112, 131, 205
Saga Shuttles- will be announced soon on Saga.com
Prices
If you want to write the story of the beginning of an unforgettable Saga, here are the different categories of prices. The prices below are not including the taxes. These will be shown at the checkout buying process.
1 Day General Access- 249 RON (64%SOLD OUT)
1 Day VIP ticket- 499 RON (64% SOLD OUT)
3 Day General Acces Pass- 499 RON (83% SOLD OUT)
3 Day VIP Pass- 999 RON (94% SOLD OUT)
If you always wanted to party right behind the Dj booth of your favorite techno DJ, Saga is offering you this occasion by buying a Rave Pit Pass.
1 Day Rave Pit Pass- 399 RON
3 Day Rave Pit Pass- 799 RON (77% SOLD OUT)
Also, Saga provides different affordable and luxury accommodation options on their official site. Accommodation can be bought in a package with your festival ticket or as an additional extra.
Festival access
In order to enter the festival you must provide one of the following:
Vaccination Certificate
Immunity Certificate (If you had Covid less than 6 months ago)
Negative PCR Test (No older than 72 hours)
Negative Antigen Test (No older than 24 hours)
If you are ready to create memories that last for a lifetime, find out more information on Saga Festival.