1) Hey SKEDDY, how's your day going? We're happy that we have the chance to ask you a couple of questions about your latest song and future plans. What is your style as a Dj and Producer?
My Day is going great! Thank you for having me! I'm super pumped about my latest releases and upcoming events. As a Dj, I mix very fast. Typically 60-70 tracks in an hour depending on the type of set I am playing. My sets are pretty high energy and have tons of inspiration from Laidback Luke and Skrillex. As a producer, I find my true style to be Industrial House with hints of Psytrance and Hardstyle. But I love producing all sorts of genres. I honestly just produce tracks that I think sound cool. Once a track is done, I move on to the next.
2) You have just released 'RAVER', can you tell us more about the song? How did you decide to name it that way and how much did you spend working on it?
Yes, Raver was just released and it has been blowing up! I am super grateful this track has done as well as it has with my fellow ravers and people are loving it! The song was produced with a lot of inspiration from Henry Fong. Last year, I started to incorporate Henry's tracks into my sets. I noticed the crowd was going nuts with his drops. I told myself that my level of production needs to get to that next level, similar to Henry, really based around the energy I felt when I played his tracks and how I watched the crowd just go crazy. Honestly, I truly believe I manifested this track as crazy as that sounds. I played with various sounds, styles and genres for months and couldn't come up with anything. Then, one morning at 3am the track honestly started with the vocals and transitioned into the drop. I spent about a whole day just producing this track and manipulating sounds. The name Raver just sounds cool (haha). I had it named Fire and JACK'D but RAVER fit so well. We all have a little raver inside of us that needs to cut loose every now and then.
3) Have you missed the raves during the COVID pandemic and how were your days during the pandemic? Have you been locked in the studio, or how did you spend your time during these times?
I have missed playing events during the pandemic so much! But honestly, I played dozens of house parties towards the end of last year when Covid regulations started to loosen up. It felt pretty illegal to play at parties, almost as if it was prohibition time (lol), trying to throw a party without someone calling it in. But I really enjoy and love playing house parties. It brought me back to my roots of being a DJ and why I started. There is so much connection with the 'crowd' and it becomes more personal. I definitely agree the pandemic took a hit on everyone, but I really felt like it did me a favor. I was able to focus on just producing music and become an introvert, staying secluded in my house to just produce and with the weekend house party sets and side gigs. I was able to pump tracks out and still test them at house parties and how well people responded to them. The pandemic helped me grow as a DJ and Producer much faster to be honest, but I am extremely happy normality is coming back and we can enjoy activities as we did in the past.
4) How would you describe the song 'RAVER' to someone? Why should people listen to it?
Raver is a high energy festival banger. It's that track that will have a drop that no one will expect, that makes you want to jump with the crowd and play over and over to feel the bass in your chest. A track to make you feel good, let loose and just party.
5) We heard that you will have a show on the 4th of July, is it your first show since the pandemic started, and it will be the first time when you will play 'RAVER' in front of a crowd?
It will not be my first show since the pandemic. I have been fortunate enough to play various events such as silent discos, live streams in various parts of the world, house parties and events that promoted the modified car culture, all of which were socially distant friendly. Even though the pandemic was hitting hard, I did everything I could to expose my name as much as possible. I played Raver during a silent disco and lets just say the silent disco was no longer silent. It was so funny but amazing to watch people in what was supposed to be a silent room with sneakers screeching, to patrons yelling and dancing to my track.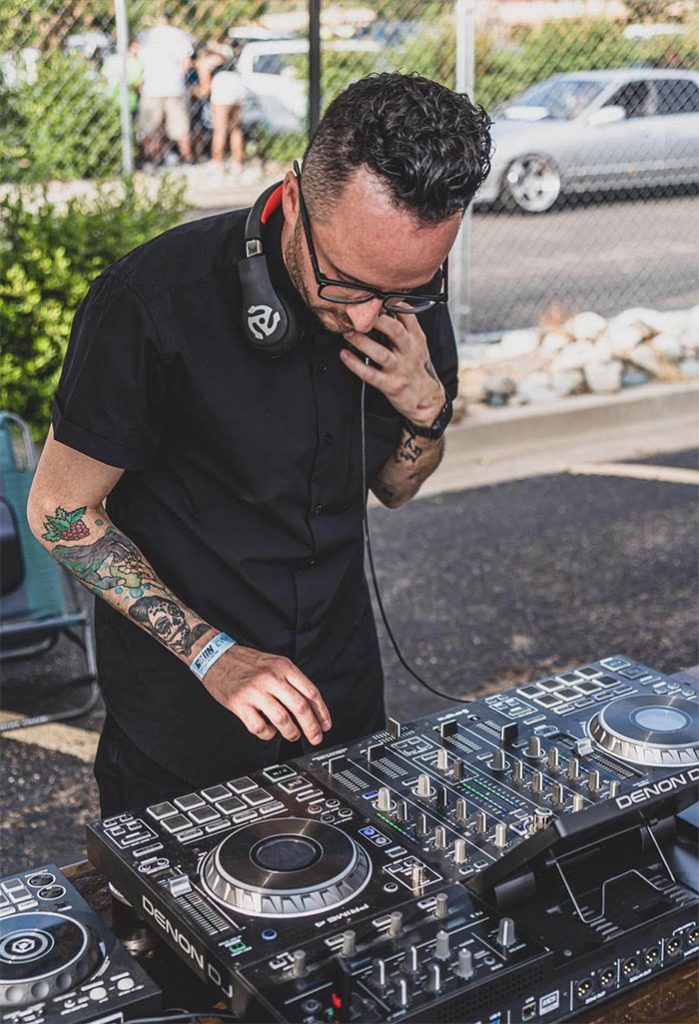 6) Can you tell us how you got into music, at what age, and if you're keen to share more about your music career so far?
When I was younger, I always wanted to play instruments (violin, piano, drums), but for whatever the reason was, my parents never accepted or allowed me to pursue music as a passion or hobby. I didn't get into producing music until 2018. I had become a chef working in Michelin and Resort restaurants as a career and I think back to how I created food. I was always listening to Avicii's 'Levels', Skrillex or Benny Bennasi's 'Cinema', creating dishes with flavors that paired to music, bursting with flavors in sync to melodies. What's crazy is I used the same concept of producing a dish or recipe to create a track. Notes, melodies and rhythms; sounds that would spark or hit at various times like ear candy. One of my most memorable moments I will never forget, that shoved me into music was the day Avicii (Tim) passed. This was the last day I worked in a kitchen; I remember reading about Tim thinking, 'Man this sucks'. I had and still have dreams of Tim. My dreams were very lucid, almost as a sign that I need to produce music. I had dreams of him showing me how to produce music, dreams of walking on the tarmac to board a private jet and him and I backstage playing at a festival, laughing and joking around. I wrote Laidback Luke an email describing my dreams of Tim and why I want to produce music and my life as a chef, not expecting anything or a response. I think maybe 12 hours had passed and I got an email back from Luke. He told me to take it as a sign and the universe was trying to tell me something. I did and for a whole year, I sold off all my most valuable possessions and my car. For 12-15 hours a day, I would teach myself how to produce and learn how to DJ.
7) If we remember well, you were featured on Laidback Luke's vlogs, can you tell us more about it and how did that happen?
After Laidback Luke connected with me, I told myself I was going to get signed to his label. I produced track after track and blew his demo drop up (haha, much apologies to Luke and his AR team). My first track he reviewed on his vlogs was 'Blankets and Lazers'. He was impressed and gave me tips to improve my mixing but overall liked the sound quality and design. I kept sending demos and I had more and more of my tracks reviewed by him over time. It all happened because I connected with Luke on a genuine level about Tim and Luke gave me an opportunity to learn from him. Luke inspired me and he was very humble and genuine to offer advice and really guidance. I religiously watched his tutorials, studied his DJ sets on how he would mix and I would try to replicate his style as a DJ during my sets. I wanted to be just as good, so everyday I pushed myself harder and harder. Now when I produce music, I humble myself all the time and think back to when I started and tell myself, "What advice would Luke give". It has taught me a lot.
8) What are your future plans? What are your dreams and how do you keep yourself motivated to achieve them?
My future plans are to perform in as many cities, events, festivals, anything and everything as much as possible. Music saved my life. As a chef, the industry and career killed me. I was drinking myself to death and living this alochol sex craved and drug abused chef lifestyle. Living paycheck to paycheck, struggling, always wanting something better. I hated my life and always plugged into my headphones where Avicii, Benny Benassi, Skrillex and Calvin Harris would make things a thousand times better. I want to impact people the way music would make me forget about how shitty my life was. My favorite thing about playing a set or producing a track like Raver, is watching how people respond and how they disappear into sounds that make them free and forget about their problems. I want my music or sets to be an escape for people. I have self doubt as we all do, but what motivates me to keep achieving my goals is seeing people enjoying themselves during my sets or listening to my music.
9) What are your top 3 songs you recommend to the people who are just discovering your work?
That's a tough one! I have a few styles of production such as bass house, or what some call my tracks, industrial house, to dubstep vibes and G house. So here are my top three picks.
Feelings [Remastered] – A great track that people can dance and sing too. Something that was a shot for the top 40's!
D.R.S. – This track was inspired by Formula 1, which I am a huge fan of. I was really finding my 'sound' during this time and had influence from Tiesto as well with this track and D.R.S. encapsulates it perfectly and the energy I want people to feel with my music.
TSYATO – I watched a lot of Skrillex sets when he was performing with Diplo as Jack u. Their live set at a Clippers half time show definitely inspired this track.
10) Thank you for being here and answering our questions. Lastly, How often are you releasing music and Where can our audience find you on socials?
I produce pretty frequently and try to release a track at least once a week, depending on how much my schedule is booked and how often I am performing. Right now, that might slow down as I find myself performing more regularly with the world coming back to normality from the pandemic which is great. My music is on all platforms such as Itunes, Spotify Etc. and I am on all social media platforms below too! Thank you for having me, it was such a blast!
Instagram: https://www.instagram.com/skeddy._.official
YouTube: https://www.youtube.com/c/SKEDDYOFFICIAL
TikTok: https://www.tiktok.com/@theskeddyofficial
SoundCloud: https://soundcloud.com/skeddy-official
ETSY: https://www.etsy.com/shop/SKEDDYWORLD