The worldwide acclaimed UNTOLD mega-festival and the largest in Europe this year announced that UNTOLD 2021 is entering a creative partnership with Elrond.
Set to be a gathering of epic proportions, the festival who was attended by more than 372,000 people in 2019 will host the top 3 best DJs in the world – David Guetta, Martin Garrix, Dimitri Vegas & Like Mike – as well as international legends such as The Script, Parov Stelar, Tyga, Sam Feldt and many other incendiary bands, artists and DJs that are set to take the stages by storm.
The creative collaboration will give all Untold attendees the chance to experience a special "NFT moment" which the organizers say will be a memorable experience that should not be missed. The resulting NFTs will be dropped in the Maiar NFT Marketplace at a later time, where attendees will be able to pick them up as part of their eternal digital collection of important life moments.
Electronic music and cryptocurrency enthusiasts will be able to purchase attendance tickets using the EGLD cryptocurrency that powers the Elrond Network internet-scale blockchain and the viral crypto super app Maiar.
The collaboration fees between the two partners will be settled in EGLD and will be kept as such on the Untold SRL balance sheets, marking an important precedent for cryptocurrency surging as a relevant financial instrument in the entertainment industry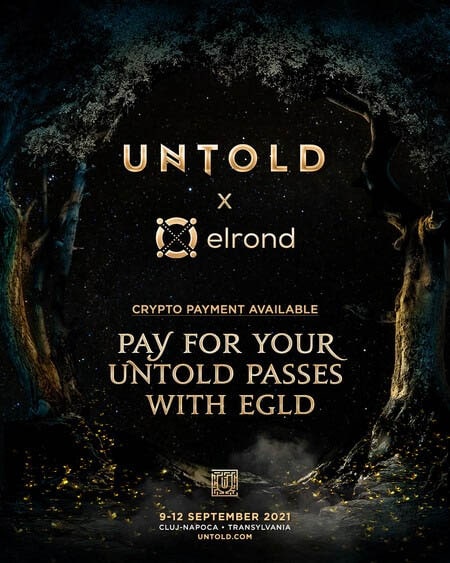 Elrond representatives will be present at the event in the Elrond lounge, where festival-goers can drop by to get surprises and information about exciting developments in the Elrond ecosystem. At the same time, festival-goers who are new to crypto will be able to learn about blockchain technology, get the Maiar wallet and own their first cryptocurrency.
"Blockchain technology has immense potential for large gatherings of digital natives who for a brief period of time become part of a hyperlocal economy. This year we engage with EGLD tickets purchases and NFTs. We look forward to exploring additional use cases in the following editions, such as a festival economy running on semi-fungible tokens issued on the Elrond Network, or artists dropping NFTs live on stage, for all their Maiar fans to uniquely engage with." said Beniamin Mincu, Elrond Network CEO.
"We're finally getting back together, this time in a slightly different world, where recent circumstances have increased our appreciation for digital experiences even more. We are excited to work together with the Elrond Network and fuse the live and digital together in a series of unique moments and we are happy that thanks to this partnership our community will be able to interact with blockchain technology on the festival site." said Bogdan Rădulescu, Head of Partnerships and New Business at UNTOLD Festival.