As with the other editions of Tomorrowland, the festival always wants to offer its guests much more than music and spectacular shows. In these special times, the People of Tomorrow are discovering and creating new ways of living. During its digital edition, Tomorrowland Around the World will host a number of entertaining Inspiration Sessions by internationally renowned thought leaders from different fields to offer people a substantial extra dose of positivity and inspiration, in addition to all the amazing musical content. Sixteen unique role models and experts, including former NBA champion Shaquille O'Neal, Black Eyed Peas frontman will.i.am and Cirque du Soleil founder Guy Laliberté will share, from their homes, energizing messages that uphold Tomorrowland's core values 'Live Today, Love Tomorrow, Unite Forever'. All Inspiration Sessions will be available to the visitors during the entire festival weekend.
Tomorrowland Around the World will welcome 16 international thought leaders from different backgrounds that will be hosting the Inspiration Sessions: Adrien Moisson, Arnoud Raskin, Ben Francis, Bethany Hamilton, Boyan Slat, Gaggan Anand, Guy Laliberté, Ida Engberg, Johan Ernst, Prince Ea, Ran Tellem, Sebastian Wussler, Shaquille O'Neal, Shaun Ross, will.i.am and Yamashita Tomohisa. They will each share their stories with the world, from their homes, about passion, strength, creativity, solidarity, sustainability and more. Each session will last, on average, 10 to 15 minutes and will be available to all festival visitors during the entire weekend.
Tomorrowland Around the World – Inspiration Sessions
Adrien Moisson, founder of the first virtual nature reserve Wild Immersion: How to Engage for Wildlife
Arnoud Raskin, co-founder of Mobile School: How to become StreetwiZe
Ben Francis, founder of UK sportswear brand Gymshark: The Power of a Community
Bethany Hamilton, professional surfer & shark attack survivor: How to be Unstoppable
Boyan Slat, founder of The Ocean Cleanup: The Largest Cleanup in History
Gaggan Anand, the most awarded chef in Asia: Be a rebel
Guy Laliberté, founder of Cirque du Soleil, One Drop Foundation and Lune Rouge: How to Keep your Inner Child
Sebastian Wussler, founder of the world's largest platform for culinary professionals ChefsTalk and Ida Engberg, leading Swedish techno DJ: Eat Today, Live Tomorrow
Johan Ernst, the world's leading explorer: The Impossible is Possible
Prince Ea, spoken word artist & motivational speaker: A lesson on Life and Love
Ran Tellem, Primetime Emmy Award-winning producer: Daducation – How to empower your children by sharing stories
Shaquille O'Neal, former NBA champion: Finding a New passion
Shaun Ross, leading top male model, artist & actor: Embracing Diversity and Change
will.i.am, frontman of Black Eyed Peas: Education as the Universal Path to Prosperity
Yamashita Tomohisa, Japanese idol, pop singer & actor: Embracing Unity
Offering inspiration and engaging with the People of Tomorrow around the world has always been at the core of Tomorrowland's spirit and belief. Symbolized by one of its core values 'Love Tomorrow', Tomorrowland focuses on research, collaboration, innovation and communication throughout the entire year. Tomorrowland is now maintaining this line by hosting 15 unique Inspiration Sessions to offer people a substantial extra dose of positivity and inspiration during its digital festival.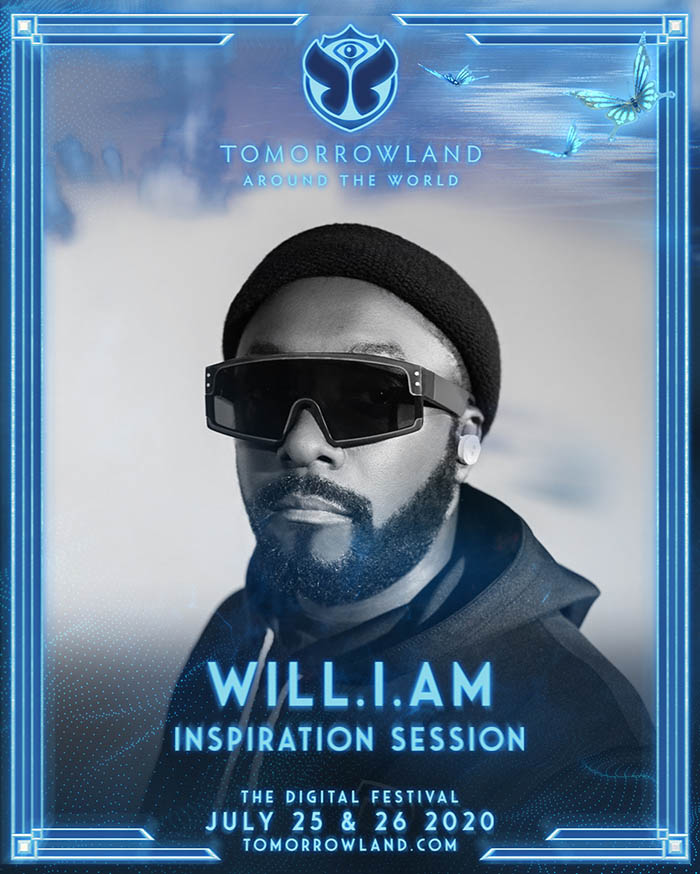 Love Tomorrow is Tomorrowland's own platform that strives for positive impact on the society and environment. It does so by inspiring and activating communities and organisations through research, collaboration, innovation and communication. Since its foundation in 2012, Love Tomorrow has created added value through sustainable development initiatives with festival organisations, businesses, innovators, universities and governments. Love Tomorrow initiates concepts that contribute to reducing environmental impact and create awareness for circular models. Love Tomorrow coordinates The Recycle Club, AQUA, Water of Tomorrow and Camp2Camp; created the Foundation and co-launched Mobile Schools; studies behaviour, sustainable development and environmental impact; creates value in terms of waste and water; innovates by use of grants, pilot projects and supporting start-ups.
Tomorrowland Around the World – Inspiration Sessions by:
Adrien Moisson
With a strong belief that enthusiasm and joy will save the biodiversity of our planet and the future of humanity, Frenchman Adrien Moisson is a man with a mission. In 2017, Moisson created the first virtual nature reserve: Wild Immersion. Through this company, he strives to create an experience that educates and connects people with wildlife. Continuing this mission, he will soon launch a festival and an app that allows users to buy land to preserve or rewild it.

Arnoud Raskin
Arnoud Raskin is the founder of StreetSmart, StreetwiZe and Mobile School, the latter of which was welcomed by the Tomorrowland Foundation in 2019. Raskin's teachings focus on the admirable qualities many children learn by living on the streets. Operating in underprivileged areas, Mobile Schools are extendable blackboards on wheels equipped with innovative educational programs that build on street children's resourcefulness, working on themes such as creative therapy, literacy, health and social skills. Currently, there are almost 60 Mobile Schools in 30 countries, spread across four continents. Adrien Moisson Arnoud Raskin
Ben Francis
What started as a screen-printing operation in a teenager's garage, quickly became one of the fastest growing and most recognisable brands in fitness. Gymshark was reason enough for founder Ben Francis to drop out of university and fully focus on building his now-global community. With millions of social media followers and customers in over 160 countries, Gymshark is more than a fitness apparel brand. It has become a community of game changers.
Bethany Hamilton
Aged 13, Hamilton was attacked by a 14-foot-long (4.3 metres) tiger shark on her morning surf in Kauai, where she grew up. The shark severed off her left arm just below the shoulder. Determined to continue her passion, Hamilton returned to surfing just a month after the attack. Initially using a custom-made board that was slightly longer and thicker, making it easier to paddle, three months after the attack, she entered her first major competition again. She is now a professional surfer (using standard boards). Ben Francis Bethany Hamilton
Boyan Slat
Boyan Slat is the Founder & CEO of globally applauded The Ocean Cleanup and the youngest ever recipient of the UN's highest environmental accolade: Champion of the Earth. Founding The Ocean Cleanup at the young age of 18, Slat had made a global impact on the environment before even making it out of his teenage years. His non-profit uses advanced technologies to rid the world's oceans of plastic. Slat himself developed the concept, which utilises the natural oceanic forces to passively catch plastic, theoretically reducing the cleanup time from millennia to mere decades. They have now developed a river version as well, as rivers are the main source of ocean plastic pollution.

Gaggan Anand
Hailing from a background not accustomed to the lavish, Indian-born Gaggan Anand has ironically become the most awarded chef in Asia in the highest echelon of fine dining. As one of the fastest rising culinary phenomenons in the world, Anand's gastronomical foundation is as big a juxtaposition as his personal background. He managed to successfully combine the words "Indian" and "molecular gastronomy". Boyan Slat Gaggan Anand
Guy Laliberté
Guy Laliberté is the founder of Cirque du Soleil, One Drop Foundation and Lune Rouge and one of the most influential personalities in the world according to Time Magazine and one of the most creative and innovative minds according to Condé Nast. Laliberté now dedicates his time and talent to inspire and transfer values and knowledge to young entrepreneurs.

Ida Engberg
Ida Engberg is a musical powerhouse who also happens to care passionately about the state of the world we live in. A highly skilled DJ and producer with an innate understanding of what makes dance-floors tick, she's the Swedish superstar who cares as much about the environment as she does about emerging electronic music. She's also a great believer in the power of consciousness, which is evident in everything that surrounds her as a human being. Ida and her family decamped to Ibiza several seasons back and in truth, she hasn't looked back since. Together with husband Adam Beyer, this super-duo not only perform at the best parties on the planet, they also practise what they preach. Ida loves the beauty of the Balearics and advocates passionately for causes that range from animal protection and social injustice to environmental issues that face everyone globally right now. She is also a key ambassador for Music Against Animal Cruelties (MAAC). Guy Laliberté Ida Engberg
Johan Ernst
Johan Ernst Nilson is one of the world's leading explorers, having trekked across the globe for over 20 years, embarked on a journey from 'Pole to Pole', climbed the Seven Summits and travelled to 170 countries in his life. With over 50 expeditions to his name, Nilson often dedicates his explorations to climate-related initiatives, using the momentum to generate donations as well as attention. For instance, he completed the first ever climate neutral Everest expedition.

Prince Ea
Richard Williams, better known by his stage name Prince Ea, has gone viral with his inspirational spoken word performances with over two billion YouTube views and 25+ million followers. Starting his career as an aspiring hip-hop artist, he has become famous as an inspiring speaker instead, creating motivational spoken word films and content. Covering a wide range of topics such as environmentalism, race, spirituality and work life balance, he shares his perspective not just through his own video content as an artist, but also as a speaker through conferences and lectures in schools. Johan Ernst Prince Ea
Ran Tellem
As one of the world's most respected television content creators in both scripted and non-scripted productions, Ran Tellem has made an international name with an equally impressive oeuvre of media formats. With a Primetime Emmy Award for producing 'Homeland', Tellem joined The Mediapro Studio as Head of International Content Development. Ran Tellem is also an executive producer of 'The Head', a six-part psychologist thriller, which premiered last June in 30 markets of Europe and Asia.

Sebastian Wussler
Sebastian Wussler didn't just start ChefsTalk, the world's largest platform for culinary professionals, he also founded Hoodly, a local delivery app. In the offline business world, his family background comes in handy. As a third-generation restaurant owner, Wussler is a consultant for all types of hospitality businesses and the co-founder of Pure Berlin, a culinary design studio in (you guessed it) his current hometown of Berlin. Ran Tellem Sebastian Wussler

Shaquille O'Neal
Whether you put him in a basketball court or in a DJ booth, there's no way around Shaquille O'Neal. After almost 20 years of being a living legend in basketball, O'Neal turned one of his other passions into his profession, moving into music. Having released four rap albums, he is now a touring DJ under his artist alias DJ Diesel, instantly becoming the world's biggest DJ, –again, literally, any other DJ will fall short next to Shaq.

Shaun Ross
Known as the world's first ever professional model with albinism, Shaun Ross has been a trailblazer not just in the fashion industry but also as the face of the recent self-love movement. Ross isn't just different-looking, he's also openly gay and a big advocate for the LGBTQI community. He may be known for fashion, but he has since made the switch to music. Together with house mogul Duke Dumont, Ross released a Gold record before having even dropped a debut album. Using his fame and name, Ross initiated the 'In My Skin' movement to encourage individuals to learn self-acceptance. Shaquille O'Neal Shaun Ross
will.i.am
Born William Adams, you know him as will.i.am, the frontman of Black Eyed Peas. Recognised with seven Grammy Awards, an Emmy Award, two NAACP Image Awards, a Webby Award, an Honorary Fellowship by the Institution of Engineering and Technology, named Young Global Leader by the World Economic Forum and much more, it is safe to say that will.i.am has made a name for himself in the music industry as well as far beyond it. He was the first recording artist to send a song to Mars in conjunction with NASA's Curiosity Mars Space Lab.

Tomohisa Yamashita
With a current #1 charting album to his name, as a host on primetime television and starring in one of the highest-grossing movies ever in Japan, Tomohisa Yamashita is, without a doubt, a one-man all-star. With his media presence growing significance over the years, he is now the most followed Japanese man on Instagram. will.i.am Tomohisa Yamashita
Tomorrowland Around the World, the digital festival
Saturday July 25 and Sunday July 26, 2020.
Between 16h00–01h00 CEST.
Festival visitors will be able to navigate easily through Pāpiliōnem with a PC, laptop, smartphone or tablet – you don't need special VR goggles – and explore the entire festival site with all the different stages and points of interest in an interactive way together with friends.
'Time-zone-friendly' for visitors from Asia and North and South America.
Open for people of all ages and places.
Accessible exclusively on tomorrowland.com.
Day ticket costs €12.50.
Weekend ticket costs €20.00 and includes a week of video-on-demand content to relive the entire experience.
Special People of Tomorrow packages and Home Party packages are available. More info can be found here.
Info and updates: tomorrowland.com