1001tracklists have put together a list of Top 101 Producers 2020, using their tracklist database. The list features artists whose tracks were most played by DJs around the world. The rankings are determined by the amount of plays a producer had for his or her tracks by DJs in live sets, radio show, and mixes. 1001tracklists's rankings thus provides a unique indicator for an artist's 2020 performance – indicator which is generated purely by other artists' tastes.
The list was generated from tracks played between October 1, 2019 and September 30, 2020 and a great amount of unique support for each track was summed to generate the rankings. "Tracks are included in this year's rankings if they have been supported by at least three DJs and if they were released or first played in the last two years." 1001tracklists stated, "[…] This is a new modification to the Top 101 Producers, intented to place an emphasis on recent productions and trending artists.
The Top 101 Producers of this year marks the fifth edition of the rankings and Oliver Helden is the number one most played music producer this year. His Future House sounds were played all over the world and thousands of people got to hear this pioneer's diverse catalog of productions released under his own name and his HI-LO alias.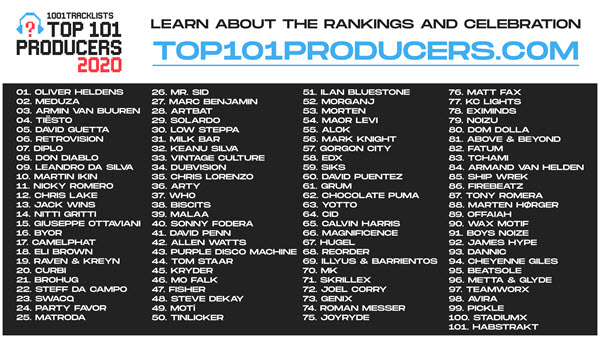 Throughout the list, we can see many familiar names like Armin van Buuren who has moved up every year now ranking #3, followed by Tiesto and David Guetta with the former being on the #4 position and latter closing the Top 5. There are many newcomers, as well. On #2 we can find MEDUZA for whom this is the first year in the rankings.
Tune in on Friday as 1001tracklists and fans celebrate in style with a virtual festival in Minecraft featuring more than 50 artists, including 2020 champion Oliver Heldens and the first ever David Guetta back-to-back MORTEN Future Rave set! RSVP here: 1001.tl/top101producers2020