June 25th, 26th, and 27th, 1001Tracklists brings the rave into your living room one last time for
their third and final Virtual Festival! With the help of 35+ incredible artists, the electronic music
community will unite for three days online. Featuring sets from a diverse range of artists, there's
something for everyone, and the event promises new music, good vibes, and uplifting spirits for
all!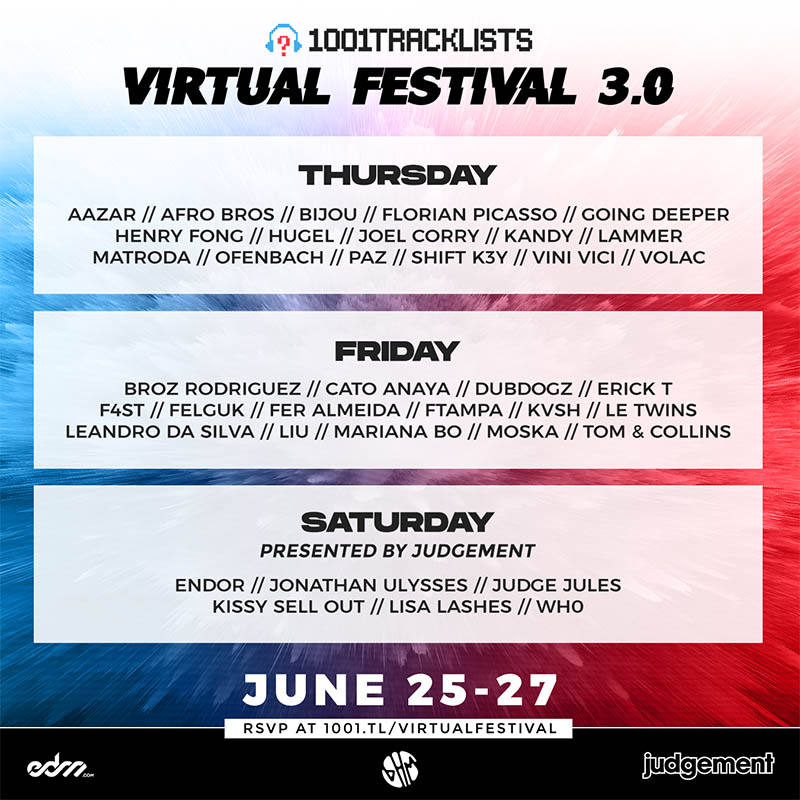 Tune in Thursday to hear the sounds of the Mainstage. LAMMER, Joel Corry, and Ofenbach will
be laying down the house grooves, while artists with a harder house sound – VOLAC, Matroda,
HUGEL, and BIJOU – will be a delight for tech and bass house fans. Afro Bros bring a unique
moombahton sound to Day 1, while Shift K3Y and Florian Picasso are still feeling the
momentum from massive collabs (with Becky Hill and Timmy Trumpet, respectively). Going
Deeper are a key duo to watch, and were the most requested artist on 1001Tracklists socials for
their next virtual festival! AAZAR brings his trademark energy and ramps up the bpm, while Vini
Vici will bring psy trance to the mainstream, and their explosive energy can't be missed!
American DJs Henry Fong, KANDY, and PAZ round out Day 1's lineup, and each have
promised new music to look out for!
Friday showcases top artists from Central and South America with an all-star lineup. Get ready
for Latin house grooves with Fer Almeida, Leandro Da Silva, and Cato Anaya. Erick T and Broz
Rodriguez will share music from some of the best up and coming talent in their region with their
sets loaded with new music from their label XDM Records. Tom & Collins offer pumping tech
house and progressive grooves, a testament to their release earlier this year on Gorgon City's
Realm Records. Top Brazilian artists Dubdogz, Felguk, FTampa, KVSH, and Liu, are sure to
delight with their signature sounds and basslines. Moska, one of the key artists on Tiësto's
Musical Freedom imprint, will have his productions on full display, while fellow Colombians
F4ST showcase their unique partnership in their set. And to cap things off, Le Twins and
Mariana Bo will both bring the heat with the sounds of the Mainstage that make them festival
headliners.
Saturday, Judge Jules brings his iconic Judgement brand on board for a full takeover. His
Judgement Sundays grew into one of the most renowned and longest running nights in Ibiza
and he brings us a taste of the white isle with an extended set. Joining him are former Space
Ibiza resident Jonathan Ulysses, technical wizard Kissy Sell Out, 20+ year dance music stalwart
Lisa Lashes, "Pump It Up" hit maker Endor, and the mysterious duo Wh0.
All sets will be streamed across Facebook, Twitch, and YouTube with live tracklisting
simultaneously from the top users on 1001Tracklists. For more information and to watch, head
over to 1001.tl/virtualfestival.
Overall Lineup (A-Z): AAZAR, Afro Bros, BIJOU, Broz Rodriguez, Cato Anaya, Dubdogz,
Endor, Erick T, F4ST, Felguk, Fer Almeida, Florian Picasso, FTampa, Going Deeper, Henry
Fong, HUGEL, Joel Corry, Jonathan Ulysses, Judge Jules, KANDY, Kissy Sell Out, KVSH,
LAMMER, Le Twins, Leandro Da Silva, Lisa Lashes, Liu, Mariana Bo, Matroda, Moska,
Ofenbach, PAZ, Shift K3Y, Tom & Collins, Vini Vici, VOLAC, WH0