The next edition of Freqways will take place over the whole weekend showcasing local talent from across the Saudi region in celebration of Saudi National Day: https://freqways.mdlbeast.com/ 
Hello Ahmad, how are you? Thank you for joining us.
Hello! Very happy to chat with you.
Can you tell us more about yourself and what's your actual position at MDLBeast?
So my name is Ahmad Alammary, I am known as Baloo. I am the Chief Creative Officer at MDLBEAST. My work involves creative enhancement and ideation of everything that we develop, in addition to being a curating team member, I enjoy influencing the creative quality for the brand overall. 
Despite being involved with MDLBeast, you're also a DJ. How and when did your passion for music started?
I actually don't remember when I started, but I do remember making my first music purchases at age 7. I bought Janet Jackson's Control album in 1986 and then after that I started to make mixtapes for all my friends. I learned everything from my brother who was the source of music, art and culture in my world. With music, the evolution was about exposure to fresh music, and a curiosity that just never subsided.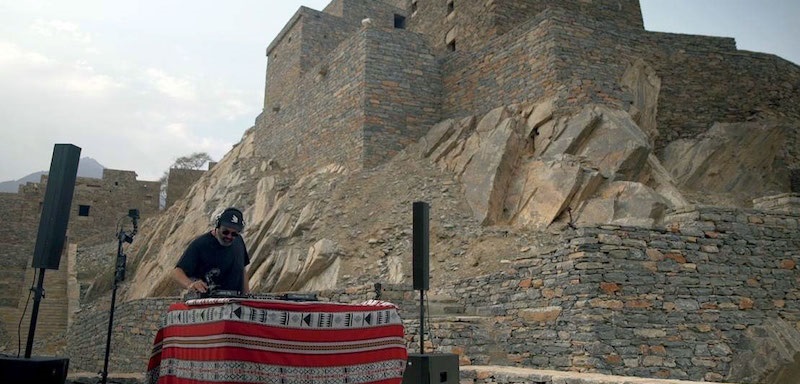 What's your piece of advice for someone in order to always stay creative and start innovating whatever he's doing at the moment?
Stay curious. Be observant. Step out of your comfort zone. For musicians, listen to music from all eras… and open up to different genres of music. Generally speaking, and this applies to all creative types, from entrepreneurs to fine artists, inspiration can be found anywhere, you just have to keep your eyes open, and be authentic in your expression.
What is the most challenging part when it comes to organizing such a big event like MDLBeast?
Time. There is never enough of it. Also, the intense need to improve everything, and to know when things are good enough. Always good to learn from mistakes, and take note of how you can avoid them.
MDLBeast Festival only had one edition till now, but it has surpassed everyone's expectations, by far. What's the main key to this massive success?
Thirst! Music, art, and culture are important to people, entertainment is built on all of those aspects. Arabs love to dance and love rhythm and music… So much talent was already bubbling underneath the surface and we were just waiting for the right platform to shine.
How well was the idea of hosting such a big festival perceived by the local authorities in Riyadh?
It was perceived very well. For us this was a culture shift. As a people, we have always been quite festive, just not really that public about it. Up until the doors opened at Soundstorm, I had no idea what to expect. This was huge. I guess the same applies for everyone involved, including local authorities who were managing traffic to the site. It was a first, we didn't really know what to anticipate, but we were pleasantly surprised. People had a blast!
In June, MDLBeast organized Freqways. Can you tell us more about it? How did it come to be?
At a time when the entire world was grounded and unable to travel, something we may have taken for granted pre Covid19, we wanted to evoke feelings of exploration, travel and wanderlust through our experiences. We created FREQWAYS as a lighthearted faux airline, with flights as musical experiences courtesy of our captains, the DJS, transporting our viewers everywhere. We wanted to create something different, something we can develop and expand to new ideas within the realm of music, travel and immersive, cultural experiences. We had a great lineup of artists on board, and the event was a very fresh take on virtual festivals, it stood out.
What are the future plans for MDLBeast and what should the people expect next?
We are just getting started! This is a multi-layered brand, we are producers of festivals, but also music, film, and other creative work, including immersive experiences… all this requires us to build from the ground up, and so we have established an ecosystem of sub brands to support our vision including:
MDLBEAST Frequencies, our online broadcast channel, MDLBEAST XP, our non-profit educational and development arm, MDLBEAST Presents, developing small and large scale events across the region and the world, and MDLBEAST Collective, our talent development and booking arm. It doesn't stop there, we have so many exciting projects in development.
How do you think the music industry will change after the current pandemic ends? Will people hesitate to attend music festivals due to fears of contracting the virus?
This pandemic is a first for the modern world. So much is in question, and nothing is certain. It will take people time to come back to a normal post-covid life. But with safety as our biggest priority, we will push for innovation in entertainment experiences to make our fans happy.
What are the hobbies that make you happy?
I am a big traveler. I love seeing new places, trying new experiences, and exposure to new cultures. As a DJ, I also love to dig for music, to play music. I always feel happiest when behind the decks. Making people happy makes me happy.
This is all, for now. Thanks for your time and we can't wait to see what else you've got in store for us 🙂
We can't wait to show you!
Follow MDLBeast:
https://www.instagram.com/mdlbeast
https://www.facebook.com/MDLBeast
Follow Baloo: