We're delighted to present you our very first Livestream/Event to celebrate Kingsday the right way with some sick sets from the following DJs, Chase Miles, Mesto, Niviro and Julian Jordan. They will play a special set for our 4 hour long livestream on Tuesday 27th April. Every year the Dutch people celebrate their King's Birthday, in the past years, before the pandemic, every street of The Netherlands was full of people dressed in orange and partying or attending the festivals organised for Koningsdag aka Kingsday.
Our EDMNOMAD Kingsday Livestream will start Tuesday on 27th April at 5:00 PM CET (Amsterdam Time) on our YouTube, Facebook and also on www.edmnomad.com. Tune to it to catch your favorite artist play a set for our audience and all the music lovers out there.
Artists from A-Z
Chase Miles – Kevin's love for entertainment dates back to his years as a toddler. Without lessons he manages to master the drums and teaches himself to play the keyboards, piano and even the guitar. Professional dance continues in the meantime and Kevin works with the dance crews of big acts like Brainpower, Partysquad, Ali B, Yes R, Daryll & Sjaak and many others. It leads to a part in the musical 'Crusade in Jeans', with performances in over a hundred theatres in Belgium and the Netherlands.
Instagram: https://www.instagram.com/chasemilesofficial
Facebook: https://www.facebook.com/officialchasemiles
Mesto – When he was 6, he started playing the violin. By the age of 11, he began playing the drums and shortly became interested in making music. He also developed an interest in deep house and future house when he heard "Gecko" by Oliver Heldens and taught himself how to do it by learning it from YouTube. At the age of 14, he became inspired when he 'touched' a DJ set for the first time, prompting him to download specialist software, FL Studio, and enabling him to start composing. He started making deep house music at that same age, but moved to slightly harder house, as well as future house. He studied at Herman Brood Academy, a production school in Utrecht where Martin Garrix and Julian Jordan also went to.
Instagram: https://www.instagram.com/mestomusic
Spotify: https://open.spotify.com/artist/0RViEWnZO2VhmY4oI0PhF9?si=bfiwOwNZSSK33QQ2-2M79w
Facebook: https://www.facebook.com/djMesto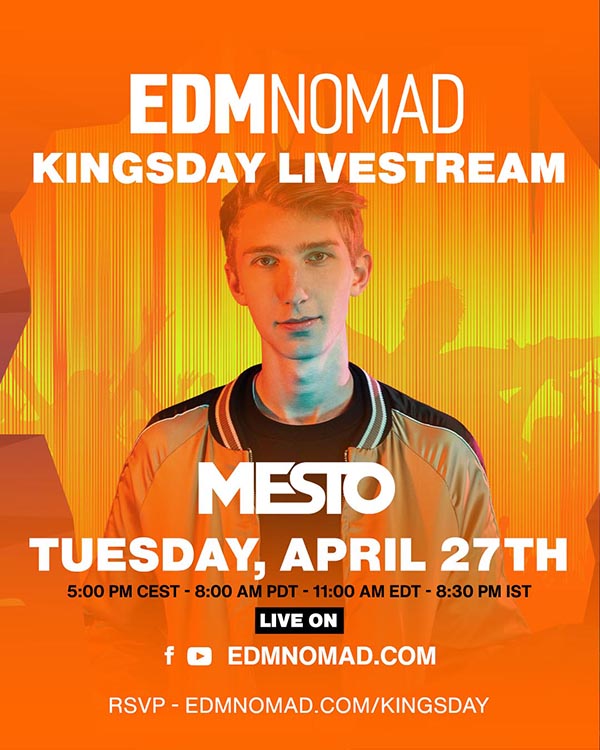 Niviro – Tim Peeters is Belgium's fastest growing star in the dance music industry. He was born in 1997, and his music is already being supported by some of the most respected and well-renowned artists in the scene, such as Tiësto, Alan Walker and Blasterjaxx.
Instagram: https://www.instagram.com/djniviro
Facebook: https://www.facebook.com/OfficialNIVIRO
Spotify: https://open.spotify.com/artist/2nsCjA4fEasmnlOK0wXU7T?si=0wDfCF7SQTSX8nUMFVvT3Q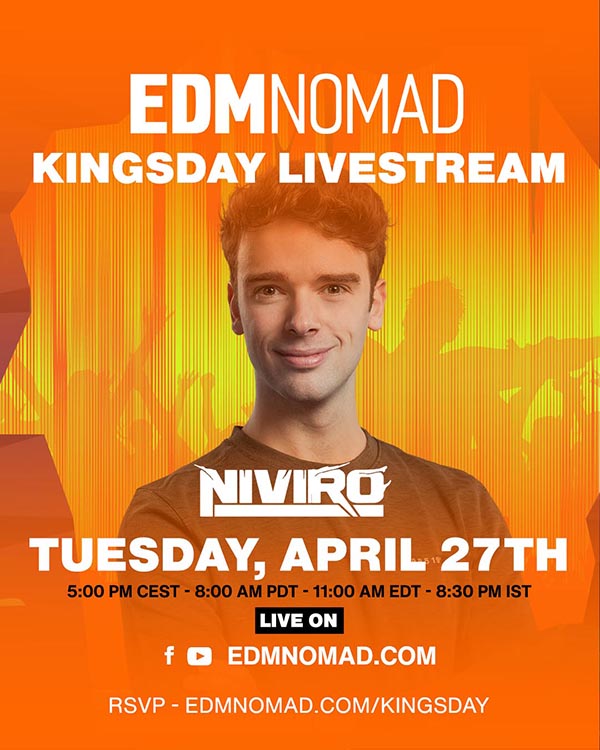 Julian Jordan – Having made his name with a slew of anthems on scene-leading labels like Spinnin' Records, DOORN records and revealed recordings, he is now part of the STMPD RCRDS family and officially signed to Martin Garrix's label. He has shown great diversity with his first few releases on the label, covering peak-time anthems and electronic pop. Signed to STMPD, he released the chart-topping track 'Glitch', in collaboration with Martin Garrix. He made 2019 next level and shook up the world with his hard-hitting releases. His latest tracks 'Oldskool', 'Bassline' and 'Next Level' are a perfect depiction of how Julian mastered the craft of producing cutting-edge bangers that will most certainly convulse worldwide year after year.
Instagram: https://www.instagram.com/itsjulianjordan
Facebook: https://www.facebook.com/itsjulianjordan
Spotify: https://open.spotify.com/artist/2vUCVkeZjzDcaoX4gagHdV?si=AlqTz4DQSRSpBw9ECk-exQ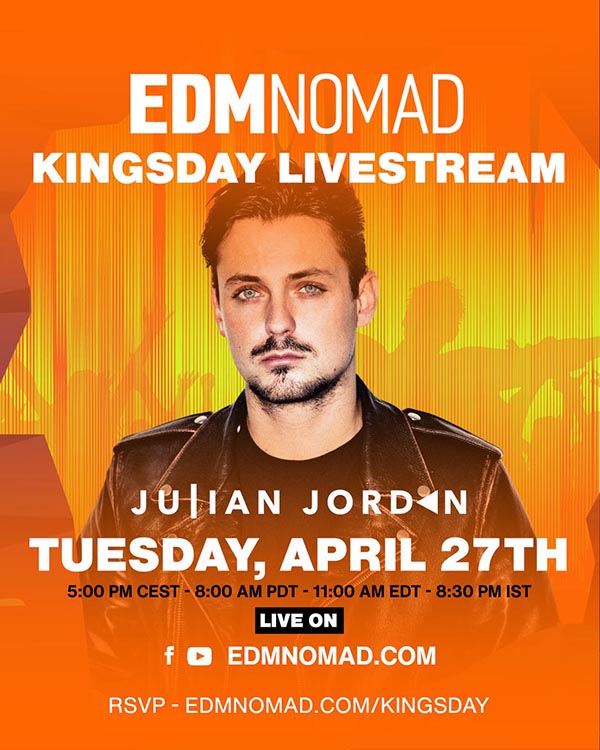 Tune in from 5PM CET // 11AM EDT on Tuesday, April 27th to catch all the sets as they are streamed entirely on YouTube, Facebook and our website – www.edmnomad.com/kingsday. Head to www.edmnomad.com/kingsday to RSVP