World-renowned DJ and producer, Hardwell, is revealed as the headliner for the much-anticipated 10th anniversary edition of Don't Let Daddy Know (DLDK) Amsterdam in 2024. This milestone event promises to be a cosmic celebration of music and unity.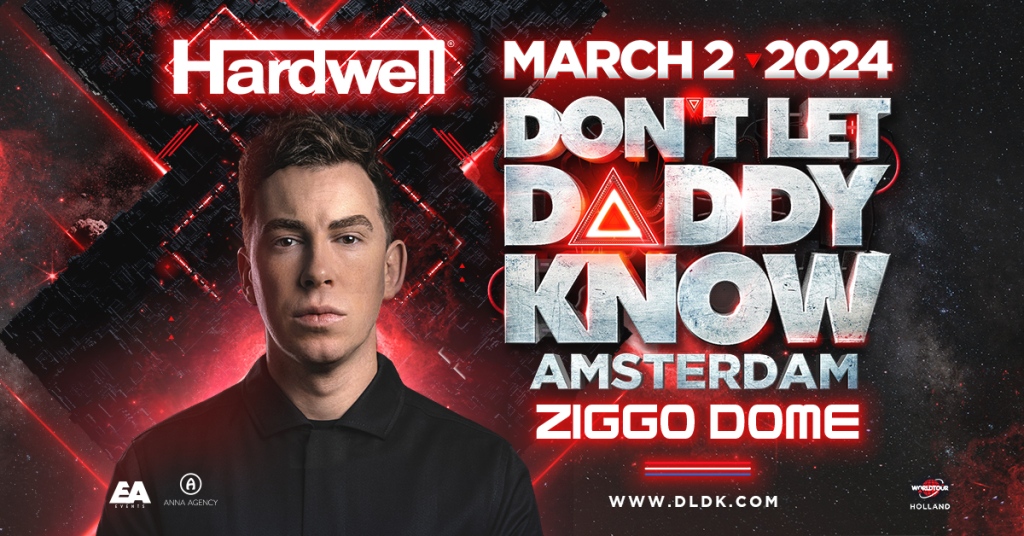 Prepare for a journey without limits
Don't Let Daddy Know is returning to Amsterdam on March 2nd, 2024. For its ten-year anniversary, DLDK Amsterdam is set to go all out, announcing Hardwell as its headline act. Hardwell's career skyrocketed with the release of his breakthrough single "Spaceman" in 2012, which became an instant EDM anthem. He has since produced numerous chart-topping tracks and albums, earning him accolades like the No. 1 spot on DJ Mag's Top 100 DJs list in multiple years.
The Ziggo Dome is an arena close to my heart, having held some of my most memorable shows there, and I can promise you this one will be another party for the history books. I'm going to be doing a special set, where I'll be playing a batch of new music and some special IDs ahead of the 2024 festival, so fans will be treated to a lot of surprises and exclusive material. I'm super pumped to be on the lineup for this 10th anniversary and to be in my home country – it will be fun!

Hardwell
A brand-new storyline for DLDK
With the announcement of its ten-year anniversary, Don't Let Daddy Know introduces an entirely new space-themed storyline. The event promises visitors a nightly journey to "The Red Galaxy", a realm like no other, located millions of light years away from Earth. This extraordinary universe is characterized by its red-colored planets, stars, and nebulas, surrounded by the most liberated life energy imaginable. In the midst of people's busy lives on Earth, this feeling of unity and freedom is slowly slipping away. Starting early next year, Don't Let Daddy Know invites ravers from across the globe to embark on a temporary escape to "The Red Galaxy," offering people a chance to take a break from their hectic daily lives.
Tickets for the event are on sale now. Don't miss your chance to be part of this cosmic celebration. Secure your spot in "The Red Galaxy" and immerse yourself in a rave like no other.
For more information and to purchase tickets, please visit https://amsterdam.dldk.com.
In addition to its 10-year anniversary in Amsterdam, DLDK has also shows scheduled in Sydney, Melbourne, Brisbane (Australia), and Gliwice (Poland). You can find more information about the upcoming shows at http://www.dldk.com.