After many painful postponements, the wait is nearly over. The time has almost come to set a new standard. Scottish nightlife has re-opened, and Terminal V is set to again prove why it is such a game-changing event. 

This year's epic Halloween event on Saturday, October 30th and 31st will see 20,000 people per day party across five bespoke stages with tens of world-class superstars including Amelie Lens, Sven Vath, Helena Hauff, Ben UFO, Nina Kraviz, Robert Hood (LIVE), Marcel Dettmann x DJ Stingray 313, Haai, Honey Dijon, Derrick Carter, Maceo Plex, Tale of Us, Eats Everything, The Blessed Madonna, KiNK (LIVE), Octo Octa x Eris Drew, Shanti Celeste x Moxie, Man Power, Mike Servito, Dax J, and many more are all ready to set a new benchmark for Scottish events. 
Previously a one-day event, Terminal V now offers two full days of partying which is an exciting and rewarding move for the thousands of music lovers who have lost out on 18+ months of festivals and nightlife. 95% of tickets are sold out so head to www.terminalv.co.uk to be part of this historic event. 
It has been a challenging year for all, but Terminal V never gave up. After putting on some of the boldest and most adventurous parties in Europe in recent years, the team has spent the pandemic working hard on a comeback event like no other. As the first supersized event in 18 months, Terminal V Halloween will have an extra special sense of magic in the air as well as a blistering soundtrack from a real who's who of the modern underground landscape. With so much time to plan this huge blowout, you can expect next-level immersive lighting, brain-altering visuals and special themed production to make this one play out like a spooky nocturnal adventure.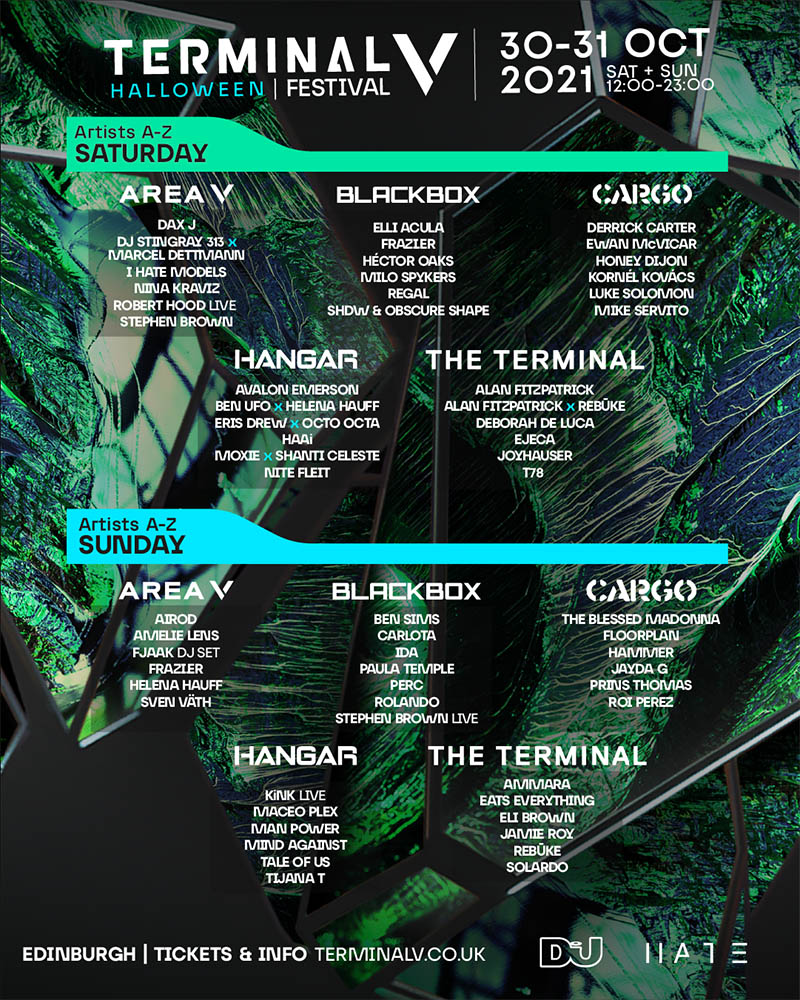 It is Terminal V's attention to detail and devotion to serving up experience like no other that has stood them apart in recent years. Each of these now-iconic seasonal events has sold out, yet in just four years Terminal V's events have grown from 2000(1 day) to 40,000(over 2 days) in capacity despite a pandemic sandwiched in between. These epic events have truly made the raw, vast warehouse spaces that make up the site at The Royal Highland Centre and showground in Edinburgh's outskirts their home.
You can be sure there is no festival quite like and as magnificent and sensory-stimulating as a Terminal V event anywhere in Europe and that will be the case at Halloween. 
Amongst the many highlights is the fact that on Saturday, Nina Kraviz will be closing the biggest stage, named Area V,  in blistering fashion, and Amelie Lens will shut it down with a bang on Sunday. There are also a handful of mouthwatering B2Bs including Ben UFO x Helena Hauff doing only their second-ever face-off, the high energy, much-loved pair of US duo Eris Drew & Octa Octa, unrelenting techno terminators Marcel Dettmann and Detroit's DJ Stingray 313 and contemporary festival favourites Alan Fitzpatrick and Rebuke. 
Says Terminal V's Derek Martin, "We've spent the most part of the past 18 months working with artists, and management rescheduling the event numerous times, yet further building the festival site , stages and lineup. It has been amazing to see our customers standing by us throughout these unprecedented times, keeping hold of their tickets and allowing us to ensure the event takes place in the months ahead. That has given us even more drive to deliver the very best event we can."
On Saturday, Area V features Nina Kraviz, Marcel Dettmann b2b DJ Stingray 313, Robert Hood LIVE, Dax J, I Hate Models and Stephen Brown. The Terminal is headlined by Alan Fitzpatrick, Joyhauser, Alan Fitzpatrick x Rebuke, Deborah de Luca, T78 and Ejeca. The Hangar features Ben UFO b2b Helena Hauff, Haai, Avalon Emerson,Octo Octa x Eris Drew, Shanti Celeste X Moxie, Nite Fleit. Cargo brings Honey Dijon, Derrick Carter, Mike Servito, Kornel Kovacs, Luke Solomon and Ewan McVicar, and Blackbox has Hector Oaks, Regal, Frazi.er, SHDW & Obscure Shape, Milo Spykers and Elli Acula.
On Sunday Area V features Amelie Lens, Sven Vath, Helena Hauff, FJAAK, Airod, Fraz.ier, The Terminal is headlined by Eats Everything, Solardo, Rebuke, Eli Brown, Jamie Roy and Ammara. Hangar features Maceo Plex, Tale Of Us, KINK LIVE, Mind Against, Tijana T and Man Power. Cargo brings Floorplan, The Blessed Madonna, Jayda G, Roi Perez, Hammer, Prins Thomas, and Blackbox is headlined by Perc, Paulo Temple, Ben Sims, Stephen Brown LIVE, Rolando, Carola and IDA.
Rest assured that Scotland has never seen a party as big as this! And no better time for it…
Terminal V
Website: www.terminalv.co.uk 
Facebook: https://www.facebook.com/terminalvfest 
Instagram: https://www.instagram.com/terminalvfest/